By
Ruriko
- 11 Jan 2019, 12:06
- 11 Jan 2019, 12:06
#5546434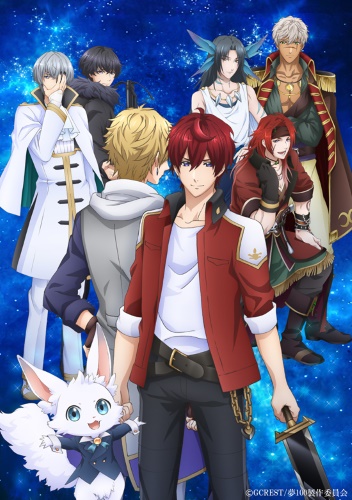 Synopsis
The heroine is a normal girl, until one day she is invited to another world and becomes the princess of the dream world, where people use dreams as the energy to live. One day, the dream world is being attacked by something called "yumekui" ("dream eater"), and many princes are being attacked by it. The heroine must wake them up to save the dream world, as the princes are unable to wake up due to having their dreams stolen.
Alternative TitlesEnglish:
100 Sleeping Princes and the Kingdom of Dreams
Japanese:
夢王国と眠れる100人の王子様
Information

Episodes:
12
Aired:
Jul 5, 2018 to Sep 20, 2018
Producers:
dugout
Licensors:
Sentai Filmworks
Studios:
Project No.9
Genres:
Adventure, Fantasy
Duration:
23 min. per ep.
File Information
Group:
HorribleSubs
Video:
1280x720 AVC 23.976 FPS
Audio:
Japanese AAC LC
Subtitles:
English ASS
Container:
MKV
Screenshots
Downloads:
Code:
https://filefox.cc/gu86wzv2q08u/[HorribleSubs]_Yume_Oukoku_to_Nemureru_100-nin_no_Ouji-sama_-_01_[720p].mkv
https://filefox.cc/bv257ihd0aib/[HorribleSubs]_Yume_Oukoku_to_Nemureru_100-nin_no_Ouji-sama_-_02_[720p].mkv
https://filefox.cc/88742noxq9ej/[HorribleSubs]_Yume_Oukoku_to_Nemureru_100-nin_no_Ouji-sama_-_03_[720p].mkv
https://filefox.cc/fucl2b9amr0n/[HorribleSubs]_Yume_Oukoku_to_Nemureru_100-nin_no_Ouji-sama_-_04_[720p].mkv
https://filefox.cc/w32qhnzxxss9/[HorribleSubs]_Yume_Oukoku_to_Nemureru_100-nin_no_Ouji-sama_-_05_[720p].mkv
https://filefox.cc/o4pkthlg893k/[HorribleSubs]_Yume_Oukoku_to_Nemureru_100-nin_no_Ouji-sama_-_06_[720p].mkv
https://filefox.cc/mavhr21z6jf7/[HorribleSubs]_Yume_Oukoku_to_Nemureru_100-nin_no_Ouji-sama_-_07_[720p].mkv
https://filefox.cc/pnfju092l2wd/[HorribleSubs]_Yume_Oukoku_to_Nemureru_100-nin_no_Ouji-sama_-_08_[720p].mkv
https://filefox.cc/qefdhq7c7qat/[HorribleSubs]_Yume_Oukoku_to_Nemureru_100-nin_no_Ouji-sama_-_09_[720p].mkv
https://filefox.cc/1anjfeycli94/[HorribleSubs]_Yume_Oukoku_to_Nemureru_100-nin_no_Ouji-sama_-_10_[720p].mkv
https://filefox.cc/vsjm2ka5cak3/[HorribleSubs]_Yume_Oukoku_to_Nemureru_100-nin_no_Ouji-sama_-_11_[720p].mkv
https://filefox.cc/c9t42362c4z2/[HorribleSubs]_Yume_Oukoku_to_Nemureru_100-nin_no_Ouji-sama_-_12_[720p].mkv