By
Ruriko
- 08 Jan 2019, 13:09
- 08 Jan 2019, 13:09
#5539472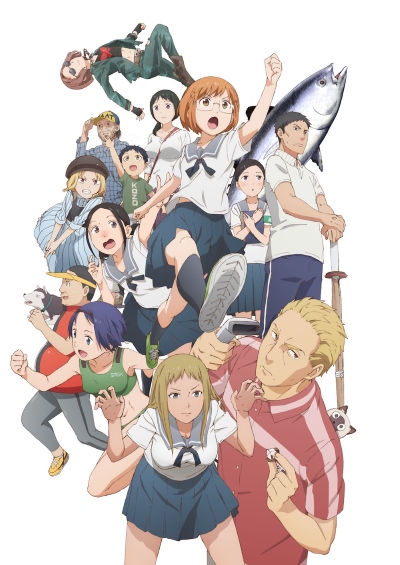 Synopsis
This is a story of a nerdy bookworm girl on her way to school, and yes, that's the entire premise, as she's not getting to school any time soon. Taking her "usual" route to school, it becomes an increasingly unusual adventure, and all the more ridiculous as it carries on. It takes an unpleasant sentiment many can empathize with, the feeling of tardiness, and brings humor to it-making it a hilarious situation to look back upon.
Alternative TitlesEnglish:
Chio's School Road
Japanese:
ちおちゃんの通学路
Information

Episodes:
12
Aired:
Jul 6, 2018 to Sep 21, 2018
Producers:
None found
Licensors:
Funimation
Studios:
Diomedea
Genres:
Comedy, Seinen
Duration:
23 min. per ep.
File Information
Group:
HorribleSubs
Video:
1280x720 AVC 23.976 FPS
Audio:
Japanese AAC LC
Subtitles:
English ASS
Container:
MKV
Screenshots
Downloads:
Code:
https://filefox.cc/o0qb4uj2lnw2/[HorribleSubs]_Chio-chan_no_Tsuugakuro_-_01_[720p].mkv
https://filefox.cc/5lvvpc6icask/[HorribleSubs]_Chio-chan_no_Tsuugakuro_-_02_[720p].mkv
https://filefox.cc/4ihby901fxst/[HorribleSubs]_Chio-chan_no_Tsuugakuro_-_03_[720p].mkv
https://filefox.cc/vjuc4zgbsx2z/[HorribleSubs]_Chio-chan_no_Tsuugakuro_-_04_[720p].mkv
https://filefox.cc/n9r74g5mry1e/[HorribleSubs]_Chio-chan_no_Tsuugakuro_-_05_[720p].mkv
https://filefox.cc/i14s2cpyxw5d/[HorribleSubs]_Chio-chan_no_Tsuugakuro_-_06_[720p].mkv
https://filefox.cc/142tmkp9sj8v/[HorribleSubs]_Chio-chan_no_Tsuugakuro_-_07_[720p].mkv
https://filefox.cc/fkk1hvesswg4/[HorribleSubs]_Chio-chan_no_Tsuugakuro_-_08_[720p].mkv
https://filefox.cc/9w4byw2gude5/[HorribleSubs]_Chio-chan_no_Tsuugakuro_-_09_[720p].mkv
https://filefox.cc/t98erqx7mtlg/[HorribleSubs]_Chio-chan_no_Tsuugakuro_-_10_[720p].mkv
https://filefox.cc/cklqh7g6too6/[HorribleSubs]_Chio-chan_no_Tsuugakuro_-_11_[720p].mkv
https://filefox.cc/yrsoo2ul3nrw/[HorribleSubs]_Chio-chan_no_Tsuugakuro_-_12_[720p].mkv