By
Ruriko
- 07 Feb 2019, 11:25
- 07 Feb 2019, 11:25
#5599833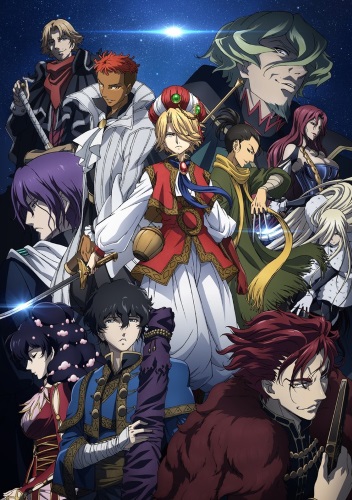 Synopsis
Tughril Mahmut is a young pasha serving on the Divan of the Türkiye Stratocracy. The clouds of war are gathering over his country due to the threat of an aggressive Empire. With the Divan split between warmongers and the pacifists, Mahmut begins his quest to keep the peace at any cost. As he finds himself deeper and deeper in the politics of the ancient world, new enemies and allies surface. Who will prevail? What will Mahmut do if war proves to be inevitable?
Alternative TitlesEnglish:
Altair: A Record of Battles
Japanese:
将国のアルタイル
Information

Episodes:
24
Aired:
Jul 8, 2017 to Dec 23, 2017
Producers:
Aniplex, Mainichi Broadcasting System, Kodansha, Lucent Pictures Entertainment, Hakuhodo DY Music & Pictures, Lawson, GYAO!, Kanetsu Co., LTD.
Licensors:
None found
Studios:
MAPPA
Genres:
Adventure, Historical, Drama, Fantasy, Shounen
Duration:
24 min. per ep.
File Information
Group:
HorribleSubs
Video:
1280x720 AVC 23.976 FPS
Audio:
Japanese AAC LC
Subtitles:
English ASS
Container:
MKV
Screenshots
Downloads:
Code:
https://filefox.cc/kprm2aro94qb/[HorribleSubs]_Shoukoku_no_Altair_-_01_[720p].mkv
https://filefox.cc/e4myi9yi9al0/[HorribleSubs]_Shoukoku_no_Altair_-_02_[720p].mkv
https://filefox.cc/0op9d91g9k32/[HorribleSubs]_Shoukoku_no_Altair_-_03_[720p].mkv
https://filefox.cc/mh6am0hlexoj/[HorribleSubs]_Shoukoku_no_Altair_-_04_[720p].mkv
https://filefox.cc/tzouk6c14g9b/[HorribleSubs]_Shoukoku_no_Altair_-_05_[720p].mkv
https://filefox.cc/26mtd6r2f3w3/[HorribleSubs]_Shoukoku_no_Altair_-_06_[720p].mkv
https://filefox.cc/wlbftolzld9i/[HorribleSubs]_Shoukoku_no_Altair_-_07_[720p].mkv
https://filefox.cc/n1qepgp103qj/[HorribleSubs]_Shoukoku_no_Altair_-_08_[720p].mkv
https://filefox.cc/0w3rih4c7gye/[HorribleSubs]_Shoukoku_no_Altair_-_09_[720p].mkv
https://filefox.cc/692en8wnm234/[HorribleSubs]_Shoukoku_no_Altair_-_10_[720p].mkv
https://filefox.cc/1kgd1r9vb8vq/[HorribleSubs]_Shoukoku_no_Altair_-_11_[720p].mkv
https://filefox.cc/90t4s42kg2me/[HorribleSubs]_Shoukoku_no_Altair_-_12_[720p].mkv
https://filefox.cc/6403kr26ra81/[HorribleSubs]_Shoukoku_no_Altair_-_13_[720p].mkv
https://filefox.cc/9qfmkshv360l/[HorribleSubs]_Shoukoku_no_Altair_-_14_[720p].mkv
https://filefox.cc/ezd9qu7y3bv9/[HorribleSubs]_Shoukoku_no_Altair_-_15_[720p].mkv
https://filefox.cc/334pn46csq4n/[HorribleSubs]_Shoukoku_no_Altair_-_16_[720p].mkv
https://filefox.cc/ofmtu6g8tlwq/[HorribleSubs]_Shoukoku_no_Altair_-_17_[720p].mkv
https://filefox.cc/z7mrb6n6gqmc/[HorribleSubs]_Shoukoku_no_Altair_-_18_[720p].mkv
https://filefox.cc/uskk1t0hrptx/[HorribleSubs]_Shoukoku_no_Altair_-_19_[720p].mkv
https://filefox.cc/hqf4zfo5siij/[HorribleSubs]_Shoukoku_no_Altair_-_20_[720p].mkv
https://filefox.cc/e87xnubna2dc/[HorribleSubs]_Shoukoku_no_Altair_-_21_[720p].mkv
https://filefox.cc/nva0wd5c1ggp/[HorribleSubs]_Shoukoku_no_Altair_-_22_[720p].mkv
https://filefox.cc/wpglaep4672b/[HorribleSubs]_Shoukoku_no_Altair_-_23_[720p].mkv
https://filefox.cc/hbnxoljw3y5x/[HorribleSubs]_Shoukoku_no_Altair_-_24_[720p].mkv