By
Ruriko
- 02 Feb 2019, 11:18
- 02 Feb 2019, 11:18
#5590808
Synopsis
Three high school girls are putting together a limited-time shop called "PARK" in Japan's Harajuku. One day, aliens come to Earth with the intent to steal the famed district's culture. At the same time, a mysterious girl appears. The three girls band together to defeat the alien threat and protect their beloved Harajuku.
Alternative TitlesEnglish:
Urahara
Japanese:
URAHARA
Information

Episodes:
12
Aired:
Oct 4, 2017 to Dec 20, 2017
Producers:
VAP, bilibili, Crunchyroll SC Anime Fund
Licensors:
Funimation
Studios:
Shirogumi, EMT²
Genres:
Comedy, Fantasy, Psychological, Sci-Fi
Duration:
23 min. per ep.
File Information
Group:
HorribleSubs
Video:
1280x720 AVC 23.976 FPS
Audio:
Japanese AAC LC
Subtitles:
English ASS
Container:
MKV
Screenshots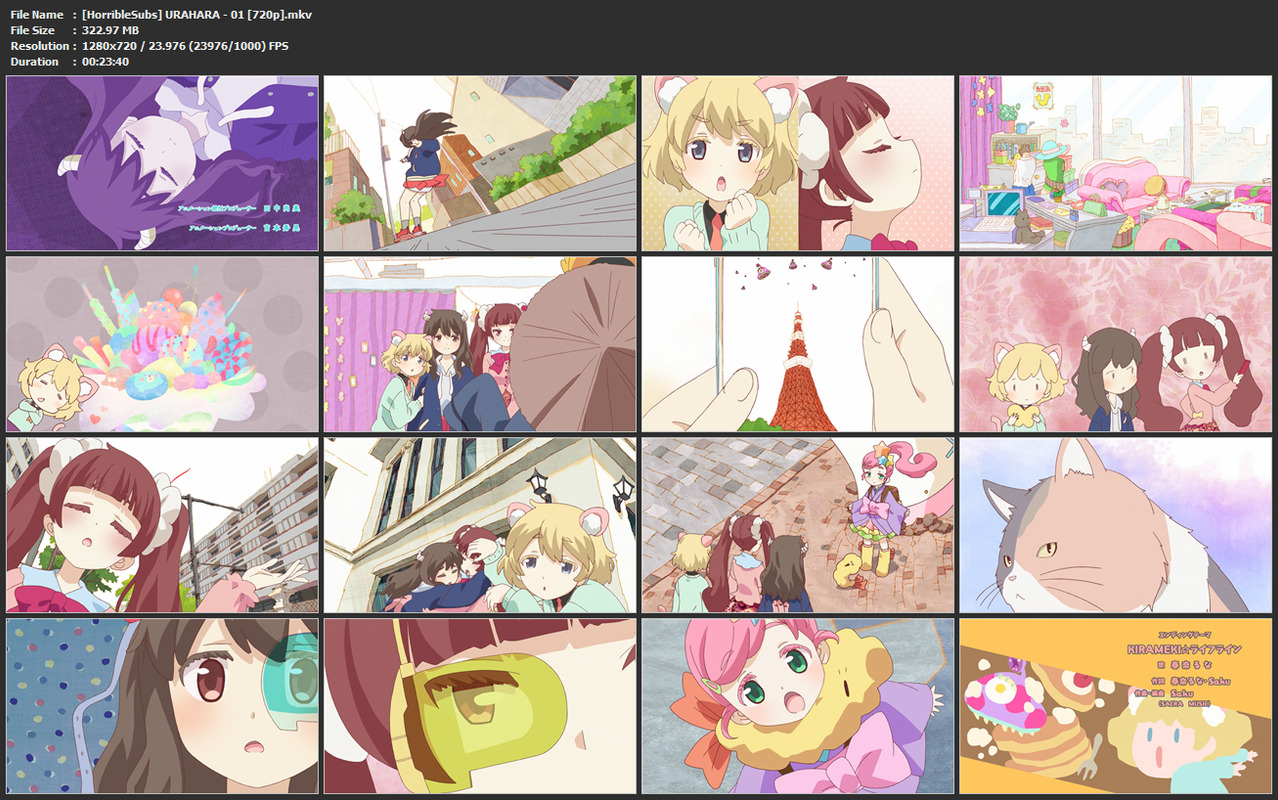 Downloads:
Code:
https://filefox.cc/8xkm6ebrpvqs/[HorribleSubs]_URAHARA_-_01_[720p].mkv
https://filefox.cc/ryshkiicdbhs/[HorribleSubs]_URAHARA_-_02_[720p].mkv
https://filefox.cc/l06d0p7pk9fh/[HorribleSubs]_URAHARA_-_03_[720p].mkv
https://filefox.cc/hkx56vq4wiqk/[HorribleSubs]_URAHARA_-_04_[720p].mkv
https://filefox.cc/sq6jzsppoj9e/[HorribleSubs]_URAHARA_-_05_[720p].mkv
https://filefox.cc/lxcmyqifds11/[HorribleSubs]_URAHARA_-_06_[720p].mkv
https://filefox.cc/16ur8uh0pene/[HorribleSubs]_URAHARA_-_07_[720p].mkv
https://filefox.cc/wgyapqdbgow7/[HorribleSubs]_URAHARA_-_08_[720p].mkv
https://filefox.cc/la79n1izchkq/[HorribleSubs]_URAHARA_-_09_[720p].mkv
https://filefox.cc/vu1gx7l2p46l/[HorribleSubs]_URAHARA_-_10_[720p].mkv
https://filefox.cc/n5bnakxrcdeh/[HorribleSubs]_URAHARA_-_11_[720p].mkv
https://filefox.cc/3tc0rp5xefs8/[HorribleSubs]_URAHARA_-_12_[720p].mkv