Alice or Alice [720p] [WEBRip]
Post
Posted:
16 Jan 2019, 14:30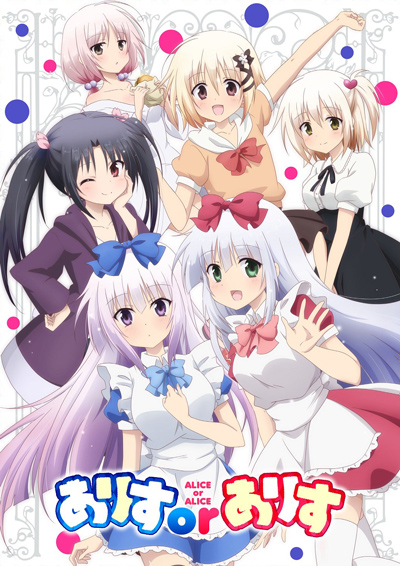 Synopsis
This story gives a look at the daily life of a pair of Alice twins and their older brother who has a sister complex. Them eating meals, getting into fights, playing with friends... Would you like to peek at the heart-full daily life of the cute Alices?
Alternative TitlesJapanese:
ありすorありす ~シスコン兄さんと双子の妹~
Information

Episodes:
12
Aired:
Apr 4, 2018 to Jun 20, 2018
Producers:
None found
Licensors:
Sentai Filmworks
Studios:
EMT²
Genres:
Seinen, Slice of Life
Duration:
3 min. per ep.
File Information
Group:
HorribleSubs
Video:
1280x720 AVC 23.976 FPS
Audio:
Japanese AAC LC
Subtitles:
English ASS
Container:
MKV
Screenshots
Downloads:
Code:
https://filefox.cc/mg4kgpifvnhc/[HorribleSubs]_Alice_or_Alice_-_01_[720p].mkv
https://filefox.cc/g4ub10af6ob1/[HorribleSubs]_Alice_or_Alice_-_02_[720p].mkv
https://filefox.cc/jw6p7lqip2ea/[HorribleSubs]_Alice_or_Alice_-_03_[720p].mkv
https://filefox.cc/8zqczts3lape/[HorribleSubs]_Alice_or_Alice_-_04_[720p].mkv
https://filefox.cc/dbffpld1ydls/[HorribleSubs]_Alice_or_Alice_-_05_[720p].mkv
https://filefox.cc/rikejmhh9gx5/[HorribleSubs]_Alice_or_Alice_-_06_[720p].mkv
https://filefox.cc/nxswa1gayvsc/[HorribleSubs]_Alice_or_Alice_-_07_[720p].mkv
https://filefox.cc/d6owiucqn8jg/[HorribleSubs]_Alice_or_Alice_-_08_[720p].mkv
https://filefox.cc/gk7y1wkp8law/[HorribleSubs]_Alice_or_Alice_-_09_[720p].mkv
https://filefox.cc/7nekhh27ujcb/[HorribleSubs]_Alice_or_Alice_-_10_[720p].mkv
https://filefox.cc/0o2g8uukmm4o/[HorribleSubs]_Alice_or_Alice_-_11_[720p].mkv
https://filefox.cc/x73lx9j391lz/[HorribleSubs]_Alice_or_Alice_-_12_[720p].mkv