By
Ruriko
- 12 Jan 2019, 12:11
- 12 Jan 2019, 12:11
#5549095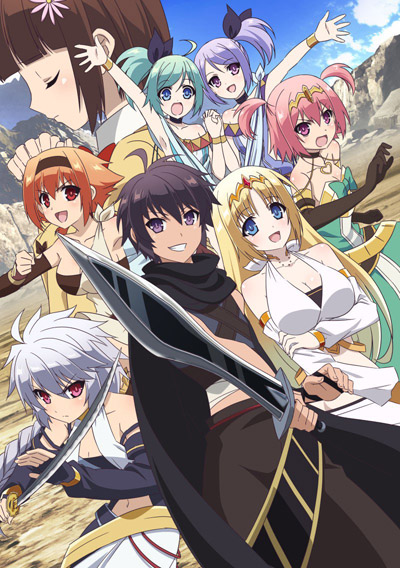 Synopsis
Some urban legends are best left untested! Yuuto Suou gets more than he bargained for when he joins his childhood friend Mitsuki Shimoya in testing out an urban legend. When he uses his phone to take a picture of himself with the local shrine's divine mirror, he is whisked off into another world-one heavily steeped in the lore of the old Norse myths.
Using his knowledge gained from school and from his solar-powered smartphone, he has the chance to bring the Wolf Clan, the same people who cared for him, to prominence, all while earning the adoration of a group of magic-wielding warrior maidens known as the Einherjar.
Alternative TitlesEnglish:
The Master of Ragnarok & Blesser of Einherjar
Synonyms:
Hyakuren no Haou to Seiyaku no Ikusa Otome
Japanese:
百錬の覇王と聖約の戦乙女〈ヴァルキュリア〉
Information

Episodes:
12
Aired:
Jul 8, 2018 to Sep 23, 2018
Producers:
Crunchyroll SC Anime Fund
Licensors:
Funimation
Studios:
EMT²
Genres:
Fantasy, Harem
Duration:
23 min. per ep.
File Information
Group:
HorribleSubs
Video:
1280x720 AVC 23.976 FPS
Audio:
Japanese AAC LC
Subtitles:
English ASS
Container:
MKV
Screenshots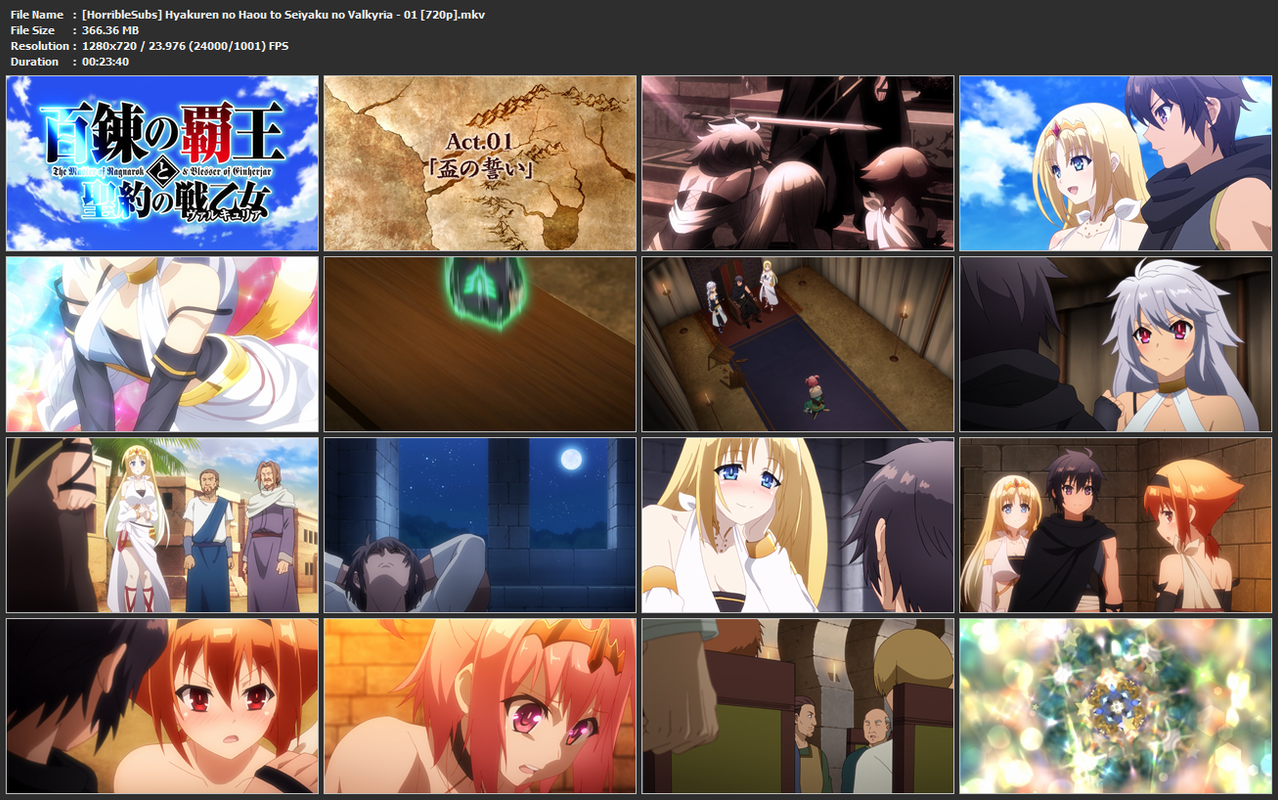 Downloads:
Code:
https://filefox.cc/3pxailxgy665/[HorribleSubs]_Hyakuren_no_Haou_to_Seiyaku_no_Valkyria_-_01_[720p].mkv
https://filefox.cc/kosyoj8xs3te/[HorribleSubs]_Hyakuren_no_Haou_to_Seiyaku_no_Valkyria_-_02_[720p].mkv
https://filefox.cc/j9fn3y1tceg9/[HorribleSubs]_Hyakuren_no_Haou_to_Seiyaku_no_Valkyria_-_03_[720p].mkv
https://filefox.cc/xawjrui7noy5/[HorribleSubs]_Hyakuren_no_Haou_to_Seiyaku_no_Valkyria_-_04_[720p].mkv
https://filefox.cc/noeverhzmsw2/[HorribleSubs]_Hyakuren_no_Haou_to_Seiyaku_no_Valkyria_-_05_[720p].mkv
https://filefox.cc/79ijurhp4qgl/[HorribleSubs]_Hyakuren_no_Haou_to_Seiyaku_no_Valkyria_-_06_[720p].mkv
https://filefox.cc/d4nej1zmhhr6/[HorribleSubs]_Hyakuren_no_Haou_to_Seiyaku_no_Valkyria_-_07_[720p].mkv
https://filefox.cc/2tv22q8kka3s/[HorribleSubs]_Hyakuren_no_Haou_to_Seiyaku_no_Valkyria_-_08_[720p].mkv
https://filefox.cc/2tpv88u8siyj/[HorribleSubs]_Hyakuren_no_Haou_to_Seiyaku_no_Valkyria_-_09_[720p].mkv
https://filefox.cc/s6it02247yu0/[HorribleSubs]_Hyakuren_no_Haou_to_Seiyaku_no_Valkyria_-_10_[720p].mkv
https://filefox.cc/h9nomdz3b1lw/[HorribleSubs]_Hyakuren_no_Haou_to_Seiyaku_no_Valkyria_-_11_[720p].mkv
https://filefox.cc/7210vhhle4iz/[HorribleSubs]_Hyakuren_no_Haou_to_Seiyaku_no_Valkyria_-_12_[720p].mkv