By
Ruriko
- 11 Jan 2019, 11:51
- 11 Jan 2019, 11:51
#5546412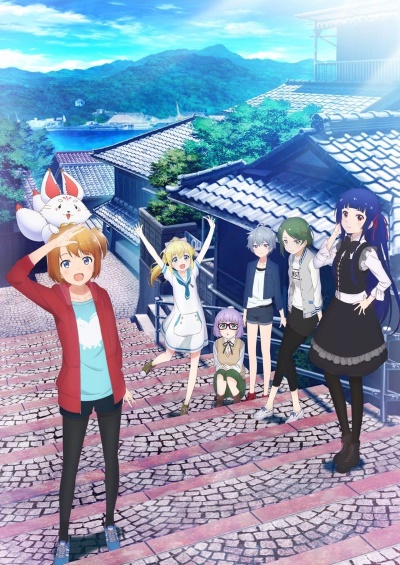 Synopsis
In the future in Onomichi, Hiroshima fish disappear from the sea around the world and only whales live in the ocean. The Ministry of Fishery decides to set up giant experimental Universe Fish Tanks in space. The Onomichi Universe Fishery Union is established and begins to train space fishermen. Female fishermen are in demand due to the strengthening of an equal employment law for men and women. Six new female space fishermen are selected, and the story centers on supporting their growth.
Alternative TitlesEnglish:
Between the Sky and Sea
Japanese:
ソラとウミのアイダ
Information

Episodes:
12
Aired:
Oct 4, 2018 to Dec 20, 2018
Producers:
Half H.P Studio
Licensors:
Sentai Filmworks
Studios:
TMS Entertainment
Genres:
Sci-Fi, Adventure, Space, Fantasy
Duration:
23 min. per ep.
File Information
Group:
HorribleSubs
Video:
1280x720 AVC 23.976 FPS
Audio:
Japanese AAC LC
Subtitles:
English ASS
Container:
MKV
Screenshots
Downloads:
Code:
https://filefox.cc/biwsuixnstm1/[HorribleSubs]_Sora_to_Umi_no_Aida_-_01_[720p].mkv
https://filefox.cc/0ck9mxbrhy2k/[HorribleSubs]_Sora_to_Umi_no_Aida_-_02_[720p].mkv
https://filefox.cc/s0p6vqxo4l9w/[HorribleSubs]_Sora_to_Umi_no_Aida_-_03_[720p].mkv
https://filefox.cc/u6wa2hro1drd/[HorribleSubs]_Sora_to_Umi_no_Aida_-_04_[720p].mkv
https://filefox.cc/0zcpgqu0k5yh/[HorribleSubs]_Sora_to_Umi_no_Aida_-_05_[720p].mkv
https://filefox.cc/7ldgw35ifk14/[HorribleSubs]_Sora_to_Umi_no_Aida_-_06_[720p].mkv
https://filefox.cc/ke5rsgrqg8x4/[HorribleSubs]_Sora_to_Umi_no_Aida_-_07_[720p].mkv
https://filefox.cc/19bk7lmc5ze3/[HorribleSubs]_Sora_to_Umi_no_Aida_-_08_[720p].mkv
https://filefox.cc/pze7qsy3tvyj/[HorribleSubs]_Sora_to_Umi_no_Aida_-_09_[720p].mkv
https://filefox.cc/1sxnx3mxfnb2/[HorribleSubs]_Sora_to_Umi_no_Aida_-_10_[720p].mkv
https://filefox.cc/6v5x3kklfig7/[HorribleSubs]_Sora_to_Umi_no_Aida_-_11_[720p].mkv
https://filefox.cc/3vi6fzez7y6i/[HorribleSubs]_Sora_to_Umi_no_Aida_-_12_[720p].mkv