Tonari no Kyuuketsuki-san [720p] [WEBRip]
Post
Posted:
07 Jan 2019, 12:50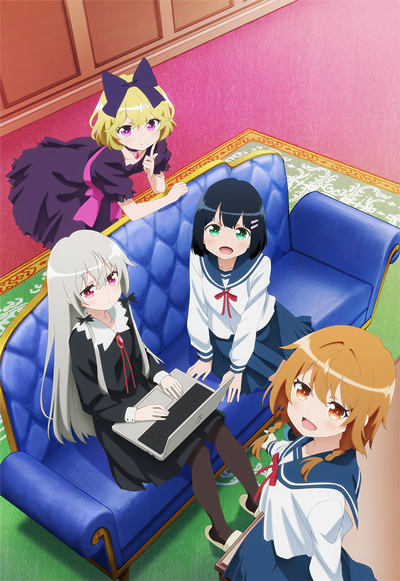 Synopsis
The modern-day vampire comedy centers on high school girl Amano, who was saved from a strange incident by a vampire girl named Sophie Twilight, and has been interested in her ever since. Akari arrives at her house uninvited and the two start to live together. Although a vampire, Sophie never attacks humans, but purchases blood and anime goods via mail and lives a modern life.
Alternative TitlesEnglish:
Ms. vampire who lives in my neighborhood.
Japanese:
となりの吸血鬼さん
Information

Episodes:
12
Aired:
Oct 5, 2018 to Dec 21, 2018
Producers:
Nippon Columbia
Licensors:
None found
Studios:
Studio Gokumi, AXsiZ
Genres:
Comedy, Shoujo Ai, Slice of Life, Supernatural, Vampire
Duration:
23 min. per ep.
File Information

Group:
HorribleSubs
Video:
1280x720 AVC 23.976 FPS
Audio:
Japanese AAC LC
Subtitles:
English ASS
Container:
MKV
Screenshots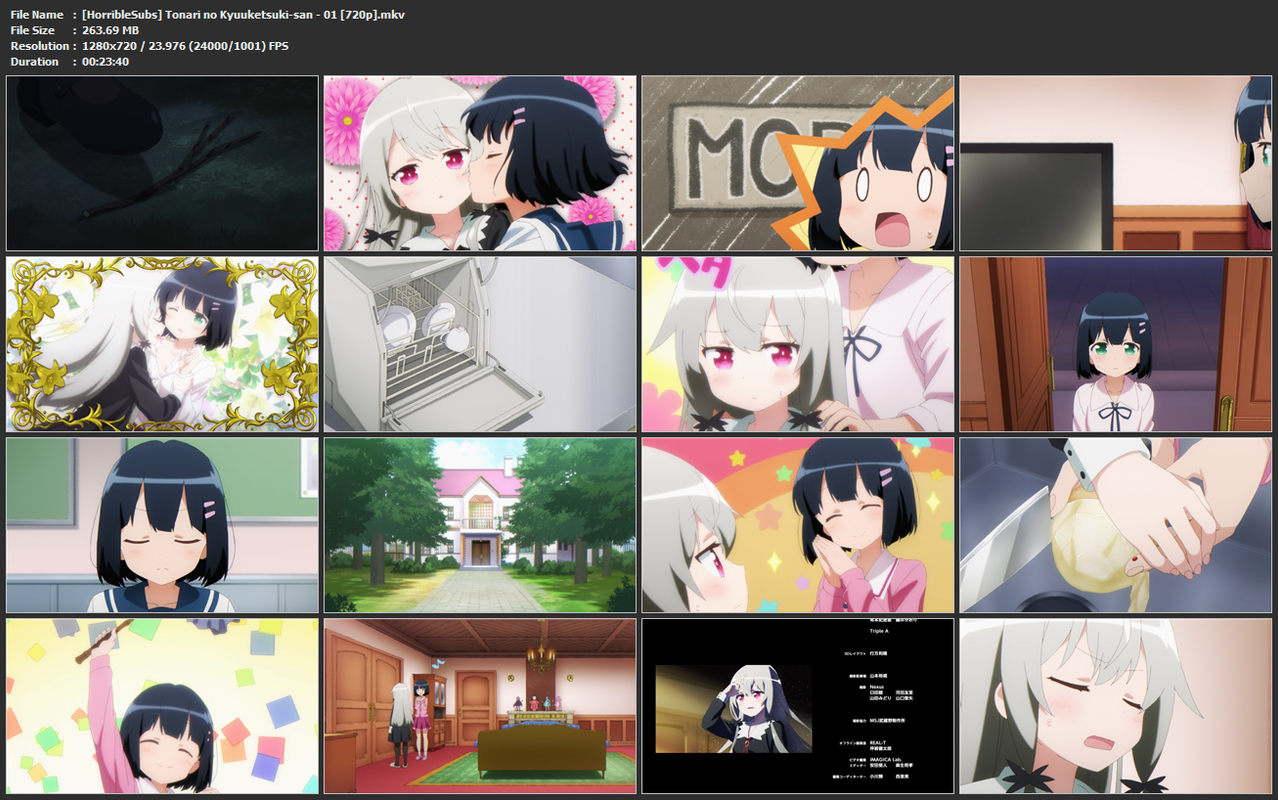 Downloads:
Code:
https://filefox.cc/w51juap6aydb/[HorribleSubs]_Tonari_no_Kyuuketsuki-san_-_01_[720p].mkv
https://filefox.cc/y8pgonkv71dj/[HorribleSubs]_Tonari_no_Kyuuketsuki-san_-_02_[720p].mkv
https://filefox.cc/wyielrf3ihw5/[HorribleSubs]_Tonari_no_Kyuuketsuki-san_-_03_[720p].mkv
https://filefox.cc/zjl8lj71mydt/[HorribleSubs]_Tonari_no_Kyuuketsuki-san_-_04_[720p].mkv
https://filefox.cc/pc3oz6dtk8rx/[HorribleSubs]_Tonari_no_Kyuuketsuki-san_-_05_[720p].mkv
https://filefox.cc/9jta3ffr6s0y/[HorribleSubs]_Tonari_no_Kyuuketsuki-san_-_06_[720p].mkv
https://filefox.cc/19x1yfy4tgo3/[HorribleSubs]_Tonari_no_Kyuuketsuki-san_-_07_[720p].mkv
https://filefox.cc/ud2f50wsmswu/[HorribleSubs]_Tonari_no_Kyuuketsuki-san_-_08_[720p].mkv
https://filefox.cc/rhntlyetcr3t/[HorribleSubs]_Tonari_no_Kyuuketsuki-san_-_09_[720p].mkv
https://filefox.cc/hy47wkwjqfbs/[HorribleSubs]_Tonari_no_Kyuuketsuki-san_-_10_[720p].mkv
https://filefox.cc/92w0op8wxfws/[HorribleSubs]_Tonari_no_Kyuuketsuki-san_-_11_[720p].mkv
https://filefox.cc/3s6aa1vuk6kw/[HorribleSubs]_Tonari_no_Kyuuketsuki-san_-_12_[720p].mkv