By
Ruriko
- 06 Jan 2019, 12:48
- 06 Jan 2019, 12:48
#5534651
Synopsis
The comedy anime centers on five girls and one cat all living as housemates in Nakano, Tokyo: the three Himote sisters (Tokiyo, Kinami, and Kokoro) whose family manages the "Himote House," Kokoro's classmates Tae and Minamo, and the cat Enishi. The girls live their daily lives trying to figure out ways to be popular, and they (and the cat) all possess a mysterious secret power...
Alternative TitlesEnglish:
Himote House: A share house of super psychic girls
Japanese:
ひもてはうす
Information

Episodes:
12
Aired:
Oct 8, 2018 to Dec 24, 2018
Producers:
Sony Pictures Entertainment, Chugai Mining, Hakuhodo, GYAO!, THINKR, Moonbell, LinkedBrain
Licensors:
None found
Studios:
Bouncy
Genres:
Comedy
Duration:
12 min. per ep.
File Information

Group:
HorribleSubs
Video:
1280x720 AVC 23.976 FPS
Audio:
Japanese AAC LC
Subtitles:
English ASS
Container:
MKV
Screenshots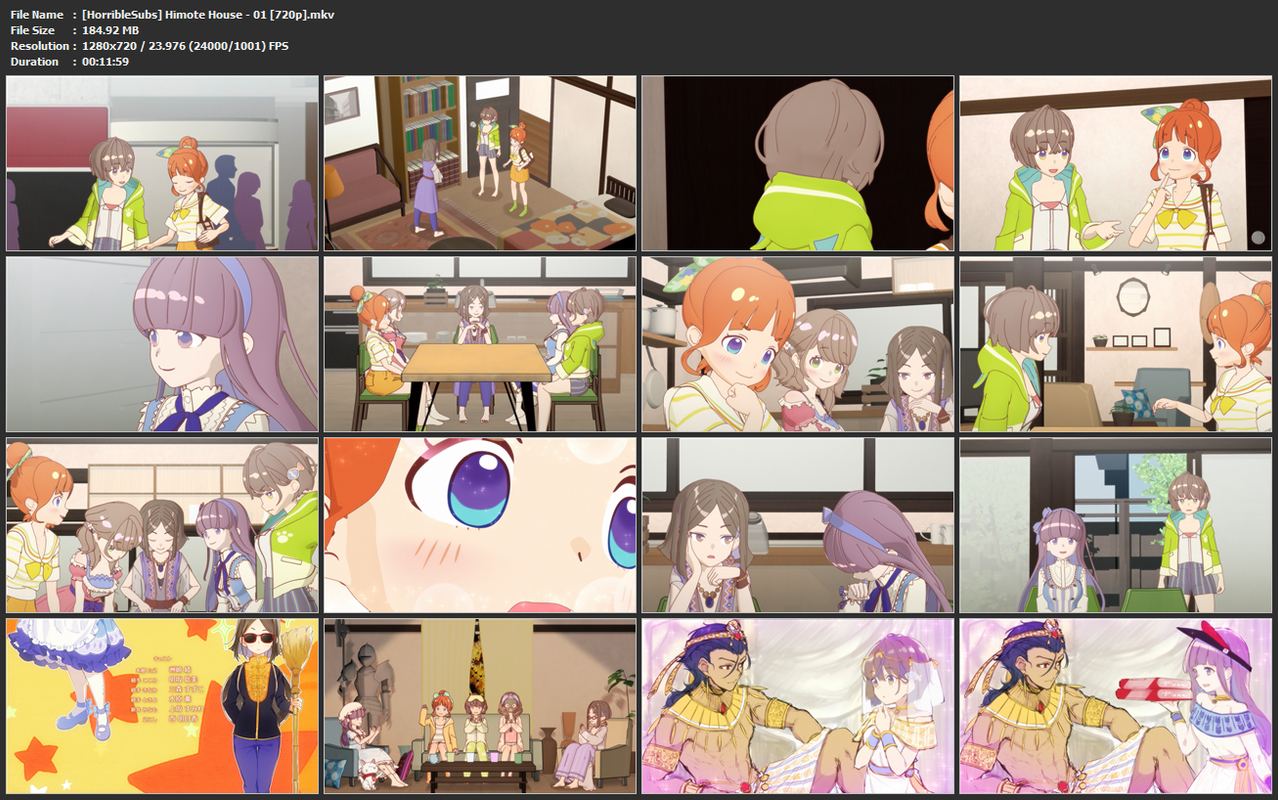 Downloads:
Code:
https://filefox.cc/k15ojpj7ghkx/[HorribleSubs]_Himote_House_-_01_[720p].mkv
https://filefox.cc/2k34tqshljai/[HorribleSubs]_Himote_House_-_02_[720p].mkv
https://filefox.cc/157sjftuauy7/[HorribleSubs]_Himote_House_-_03_[720p].mkv
https://filefox.cc/4sferk50ilsj/[HorribleSubs]_Himote_House_-_04_[720p].mkv
https://filefox.cc/8bilk40s8fxh/[HorribleSubs]_Himote_House_-_05_[720p].mkv
https://filefox.cc/lmge8ldbn2ks/[HorribleSubs]_Himote_House_-_06_[720p].mkv
https://filefox.cc/8v8j3l7c2gbb/[HorribleSubs]_Himote_House_-_07_[720p].mkv
https://filefox.cc/1ve1r5sa2ulu/[HorribleSubs]_Himote_House_-_08_[720p].mkv
https://filefox.cc/k9lgmxmjayyh/[HorribleSubs]_Himote_House_-_09_[720p].mkv
https://filefox.cc/mmj7h0odw2pk/[HorribleSubs]_Himote_House_-_10_[720p].mkv
https://filefox.cc/z9x9a963og6u/[HorribleSubs]_Himote_House_-_11_[720p].mkv
https://filefox.cc/4k976ile2fwv/[HorribleSubs]_Himote_House_-_12_[720p].mkv