By
Ruriko
- 05 Jan 2019, 12:07
- 05 Jan 2019, 12:07
#5532746
Synopsis
Banished from Heaven, Beelzebub rules over Pandemonium where former angels that turned into demons work. One day, Beelzebub gets a new attendant named Myurin. Beelzebub seemed wise and cool... but she's actually a girl that loves fluffy things! Myurin is shocked at this revelation but still tries to get closer to Beelzebub every day. They are surrounded by various other unique and clumsy demons, and this story might be about the demons giving a certain emotion a name... maybe.
Alternative TitlesEnglish:
As Miss Beelzebub Likes.
Japanese:
ベルゼブブ嬢のお気に召すまま。
Information

Episodes:
12
Aired:
Oct 11, 2018 to Dec 27, 2018
Producers:
Aniplex, Square Enix, Movic, Studio Mausu, Tokyo MX, Q-Tec, ABC Animation, CA-Cygames Anime Fund
Licensors:
None found
Studios:
LIDENFILMS
Genres:
Comedy, Demons, Romance, Fantasy, Shounen
Duration:
24 min. per ep.
File Information

Group:
HorribleSubs
Video:
1280x720 AVC 23.976 FPS
Audio:
Japanese AAC LC
Subtitles:
English ASS
Container:
MKV
Screenshots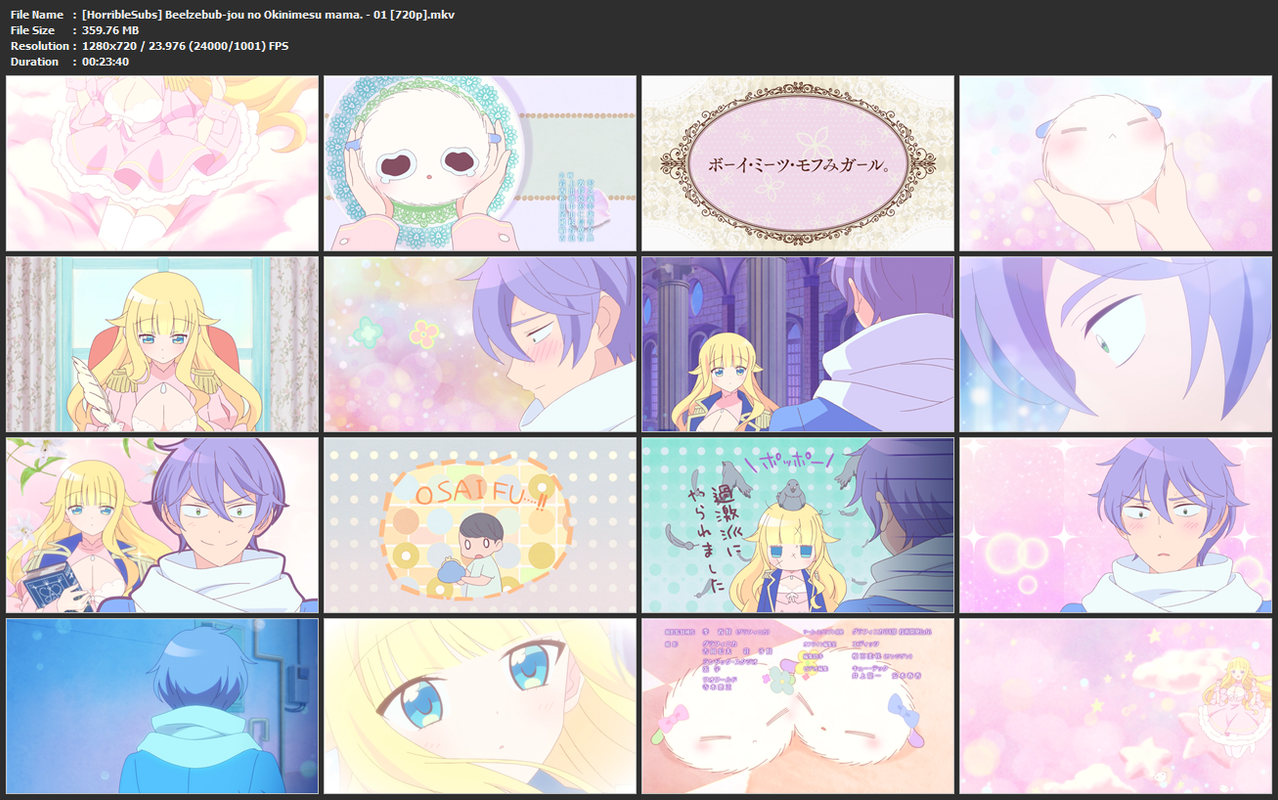 Downloads:
Code:
https://filefox.cc/ueciufju0zu9/[HorribleSubs]_Beelzebub-jou_no_Okinimesu_mama._-_01_[720p].mkv
https://filefox.cc/slwbmydtfvn3/[HorribleSubs]_Beelzebub-jou_no_Okinimesu_mama._-_02_[720p].mkv
https://filefox.cc/7xv56d9slrye/[HorribleSubs]_Beelzebub-jou_no_Okinimesu_mama._-_03_[720p].mkv
https://filefox.cc/8e5mk43vttqz/[HorribleSubs]_Beelzebub-jou_no_Okinimesu_mama._-_04_[720p].mkv
https://filefox.cc/7ccnqz3ernjn/[HorribleSubs]_Beelzebub-jou_no_Okinimesu_mama._-_05_[720p].mkv
https://filefox.cc/aigg8ehpsjyy/[HorribleSubs]_Beelzebub-jou_no_Okinimesu_mama._-_06_[720p].mkv
https://filefox.cc/eptrm2ej8yuv/[HorribleSubs]_Beelzebub-jou_no_Okinimesu_mama._-_07_[720p].mkv
https://filefox.cc/xh4k0ibpk150/[HorribleSubs]_Beelzebub-jou_no_Okinimesu_mama._-_08_[720p].mkv
https://filefox.cc/469lu0lskhmh/[HorribleSubs]_Beelzebub-jou_no_Okinimesu_mama._-_09_[720p].mkv
https://filefox.cc/8xp318og06d6/[HorribleSubs]_Beelzebub-jou_no_Okinimesu_mama._-_10_[720p].mkv
https://filefox.cc/nu5tixx04wpn/[HorribleSubs]_Beelzebub-jou_no_Okinimesu_mama._-_11_[720p].mkv
https://filefox.cc/5v597xb4u0dq/[HorribleSubs]_Beelzebub-jou_no_Okinimesu_mama._-_12_[720p].mkv