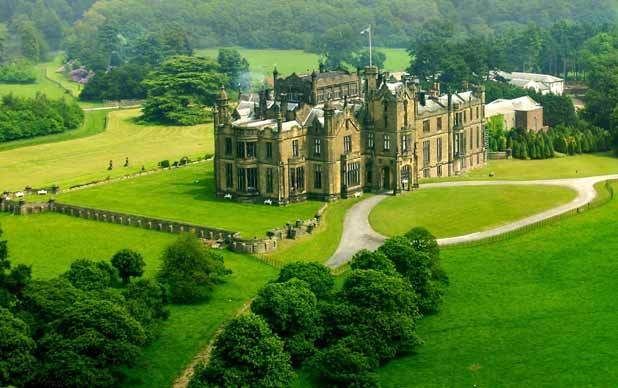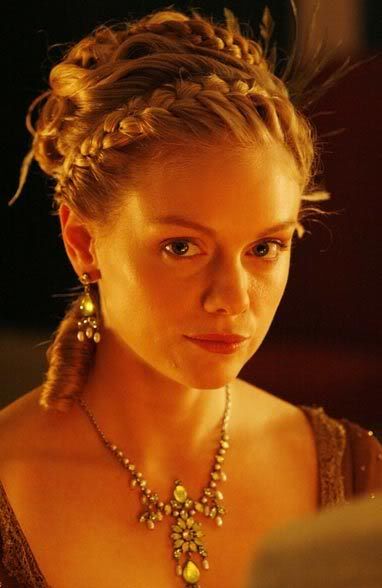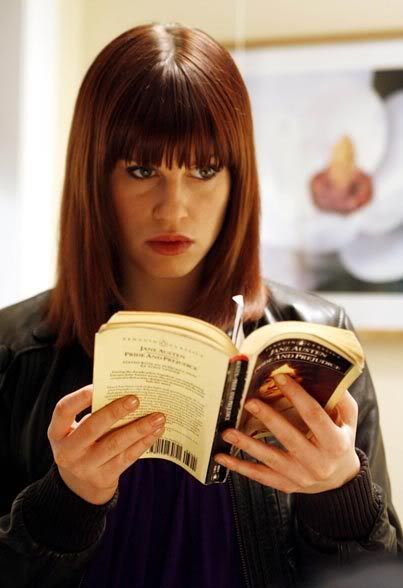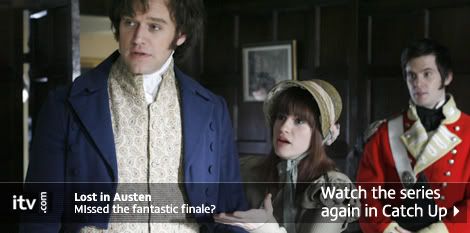 Amanda Price is an ordinary, modern day woman living in Hammersmith. She has a job she hates, a boyfriend she doesn't really love and a mother pushing her to get married.

To escape from reality she immerses herself in the Jane Austen novel, Pride and Prejudice and one day, while she's reading it, the main character, Elizabeth Bennet emerges in her bathroom!

Amanda...

Episodes Guide

1. Episode 1

First aired: 9/3/2008

After a rather bad day at work, Amanda returns home intending to spend a quiet evening reading Pride and Prejudice... again. What she doesn't bank on is her boyfriend turning up drunk and proposing to her. During the unromantic scene Amanda hears a noise in her bathroom, going to investigate she discovers Elizabeth Bennet stood in her bath! Walking through a magic door hidden behind her shower, Amanda finds herself in chapter one of her favourite book. And Elizabeth is refusing to let her back into the modern day.

2. Episode 2

First aired: 9/10/2008

Having sent Jane Bennet off to Netherfield in the hope that Bingley will fall for her, Amanda arrives to discover that Jane has fallen ill with a fever and been sent to bed. Amanda's attempts at pushing Bingleys attention from her onto Jane,however, appear to be working.... Having stayed on at Netherfield to care for Jane, Amanda has a rather uncomfortable evening in the company of Bingley, his sister Caroline and Mr Darcy. An evening that ends with her singing "Downtown" for their amusement! With the story appearing to be back on track, Mr Bennet's slimy cousin, Mr Collins, shows up at Longbourn. An event that will change Amandas' plans. Also arriving is Mr Wickham, who turns out to be an old adversary of Mr Darcy. What mischief will he inflict on the story?

3. Episode 3

First aired: 9/17/2008

Mr Darcy declares his undying love for Amanda, leaving her torn.She has feelings for him too, but she also wants to keep the story on track, which means he must be with Elizabeth Bennet... and not her. To make matters worse, she also has to come to the rescue of Jane, who is feeling trapped and miserable in her marriage to Collins. Meanwhile, a lovelorn Bingley turns to drink in an effort to forget his problems. And Lady Catherine de Bourgh, a formidable woman, arrives to watch events unfold.

4. Episode 4

First aired: 9/24/2008

Lydia Bennet decides to run away to Hammersmith with Mr Bingley.When they are found Mr Bennet tries to defend his daughters honour by challenging Bingley to a duel.Things don't go to plan for him, however, and he ends up seriously hurt. Already distraught at the news of Mr Darcey's engagement to Caroline Bingley, Amanda is upset further when she learns of Mr Bennet's injury.Determined to help him she runs to get a doctor, goes through a door, and finds herself back in the modern day.She takes the opportunity to go and find Elizabeth who it seems has taken to life in her new era...she has a job! To make matters worse for Amanda, Mr Darcey followed her through the door with the intention, once again, of telling her he loved her. Amanda must make sure she gets both him and Elizabeth back where they belong, in the hope it will set the story straight.
.:.:.:RapIdGator:.:.:.
Code: Select all

http://rapidgator.net/file/21241313/lost.in.austen.s01e01.ws.pdtv.xvid-river.part1.rar.html
http://rapidgator.net/file/21241314/lost.in.austen.s01e01.ws.pdtv.xvid-river.part2.rar.html
http://rapidgator.net/file/21241315/lost.in.austen.s01e01.ws.pdtv.xvid-river.part3.rar.html
http://rapidgator.net/file/21241316/lost.in.austen.s01e01.ws.pdtv.xvid-river.part4.rar.html
http://rapidgator.net/file/21241317/lost.in.austen.s01e02.ws.pdtv.xvid-river.part1.rar.html
http://rapidgator.net/file/21241318/lost.in.austen.s01e02.ws.pdtv.xvid-river.part2.rar.html
http://rapidgator.net/file/21241319/lost.in.austen.s01e02.ws.pdtv.xvid-river.part3.rar.html
http://rapidgator.net/file/21241320/lost.in.austen.s01e02.ws.pdtv.xvid-river.part4.rar.html
http://rapidgator.net/file/21241321/lost.in.austen.s01e03.ws.pdtv.xvid-river.part1.rar.html
http://rapidgator.net/file/21241322/lost.in.austen.s01e03.ws.pdtv.xvid-river.part2.rar.html
http://rapidgator.net/file/21241323/lost.in.austen.s01e03.ws.pdtv.xvid-river.part3.rar.html
http://rapidgator.net/file/21241324/lost.in.austen.s01e03.ws.pdtv.xvid-river.part4.rar.html
http://rapidgator.net/file/21241325/lost.in.austen.s01e04.ws.pdtv.xvid-river.part1.rar.html
http://rapidgator.net/file/21241326/lost.in.austen.s01e04.ws.pdtv.xvid-river.part2.rar.html
http://rapidgator.net/file/21241327/lost.in.austen.s01e04.ws.pdtv.xvid-river.part3.rar.html
http://rapidgator.net/file/21241330/lost.in.austen.s01e04.ws.pdtv.xvid-river.part4.rar.html